Our Cottages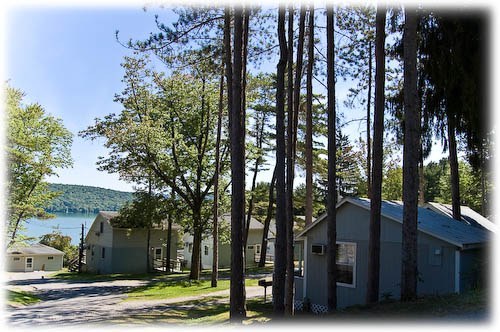 Rented by the week, or nightly if available, these units overlook the lake. Air-conditioned and equipped with full kitchen, bath with tub or shower, cable TV, high-speed Wi-Fi, phone, barbeque grill, deck or porch. Sizes range from an efficiency for four, up to three bedroom cottages that will sleep eight or ten. Basic cookware, dishes, silverware and linens are provided. (Note: Cottage D does not have a kitchen but does include a small refrigerator, coffee maker and microwave oven. And Cottage J has a two-burner stove top and does not have an oven.)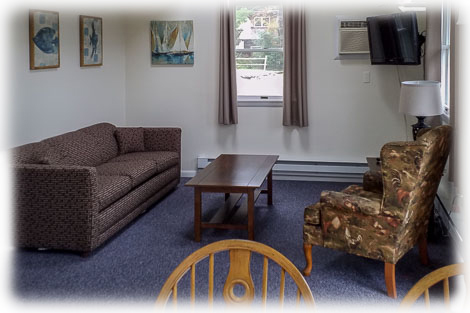 To see photos of each cottage and read about its particular features, please use the links below.
Our Cottages

Our Three-Bedroom Cottages (sleeps 8-10) Our Two-Bedroom Cottages (sleeps 5-8) Our One-Bedroom Cottages (sleeps 4) Our One-Room Cottage (sleeps 4)

Rates are subject to change. Please click here for up-to-date rates and availability.
The cottages are available from Memorial Day through Columbus Day. Enjoy our small swimming beach, with barbeque grills, picnic tables, boats, and gazebos.
What is Provided in Our Cottages
Linens
Pillows (1 per twin; 2 per double)
Blankets and comforters
Basic cookware and glassware
Cork screws
Dishes and silverware
Dish towels
Can opener
Toaster
Blender
Coffee maker and filters
Microwave oven
Charcoal grills
Garbage bags
Toilet tissue
Cable TV
Air conditioning
Dish soap
Hair dryer
What is Not Provided in Our Cottages
Coffee and tea
Charcoal and lighter fluid
Toiletries (soap, shampoo, etc.)
Beach towels
Paper towels, plates, cups
Paper napkins
Plastic wrap and aluminum foil
Salt, pepper, sugar, and spices
All cottages include limited housekeeping. Limited housekeeping includes towel exchange, bathroom refresh, and removal of garbage. Limited housekeeping does not include kitchen cleaning, washing dishes, making beds, or vacuuming.
Because of the environmental regulations that we must obey as a lakeside property, we are not able to offer our guests laundry facilities on the premises. But ask us about where you can conveniently do your laundry in Cooperstown.
To see the location of each cottage, and how big each is, please look at our Map of Premises Page.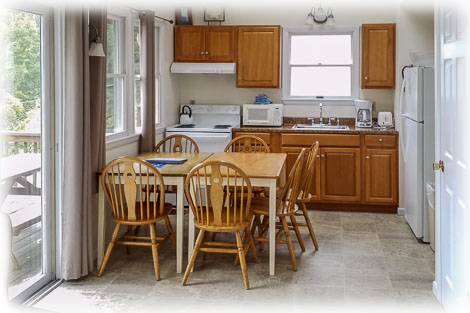 A cottage kitchen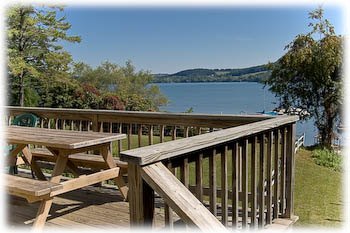 Our waterfront from a cottage deck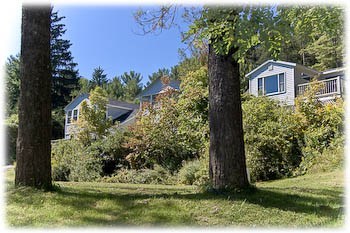 A few cottages seen from the lakeside lawn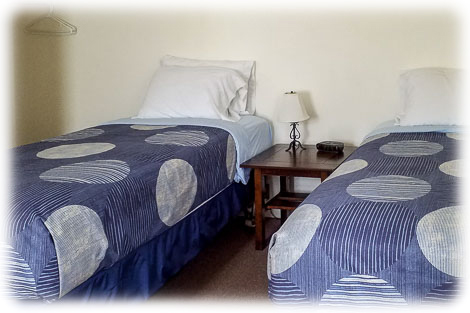 A cottage bedroom
Rates
Rates vary depending on season and length of stay. For full up-to-date information, please go to our Rates Page.
Reservations
To make an online reservation, or to check room availability, go to our Book Online Page.
Or, if you prefer please give us a call anytime at 607-547-2371.
Or, you can send us an email at info@baysidecooperstown.com to check if the type of room or the size of cottage you want is available.
Feel free to review our Rates before calling or booking a room online.
And make sure to look over Our Policies before booking a cottage.